In this article, I will give you all the details about PFMS like PFMS full form, PFMS status, registration process, and scholarship, so keep reading. Please let us know if you have any doubt or need clarification in the comment section of this post.
What is PFMS?
Actually, it's an online software application that was developed for some specific purpose. PFMS online system was developed by the Office of Controller General of Accounts (CGA).
It provides an online platform for e-payment to achieve direct benefit for subsidy transfer to both Non-Aadhar based & Aadhar based bank accounts.
This application was designed in a very flexible manner and is compatible with integrating with the country's core banking system.
Let me tell you a bit about PFMS (PFMS History)
PFMS was released during 2009 as a Central Sector Scheme of Planning Commission with the intention to monitor funds introduced under the Government of India Plan strategies and real-time reporting of cost in any way levels of the execution of this strategy.
Following a couple of decades, from the year 2013, the range was enlarged to pay direct payment to beneficiaries under the Strategy and non-plan schemes.
In late 2014, it had been proposed that PFMS will perform digitization of their accounts, and extra attributes would be added into PFMS at distinct stages.
PFMS Full Form
Let's Discuss about PFMS Full Form, The full form of PFMS is the "Public Financial Management System" Earlier it was known as the "Central Plan Schemes Monitoring System" in short CPSMS. Now you will be thinking about what is CPSMS. Let me quickly tell you about CPSMS.
The Central Plan Scheme Monitoring System is nothing but a scheme of the planning commission with the help of this government used to provide information on banks, centrally sponsored schemes, implementing agencies, etc.
Step by Step Guide on PFMS Registration Process
If you want to avail of the benefit of this platform, then you need to register on this platform. PFMS Registration process is not so difficult, but still, you need to be a little careful while providing the details. Make sure that you are providing correct information to avoid any kind of issue going forward.
Follow the below step to register in PFMS.
Step 1: Open the official page of PFMS and click on the Login icon showing at the right corner of the website.

Step 2: as soon as you click on Login, it will ask you to log in. You can provide you login details if you are an existing user; otherwise, click on "New User Registration Form," as shown in the below image.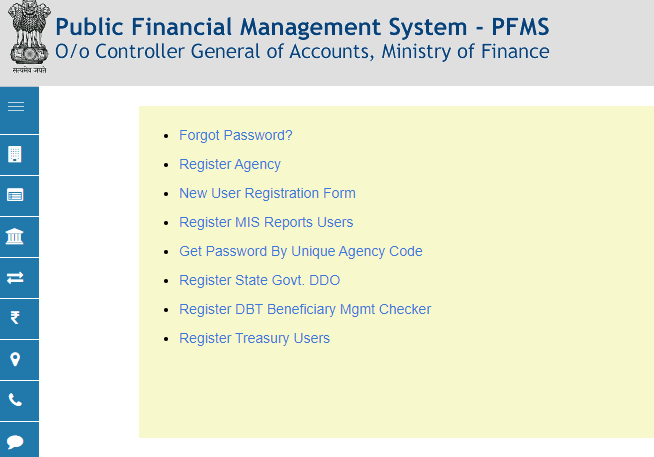 Once you click on the "New User Registration Form," one form will get downloaded in the pdf format along with the instructions.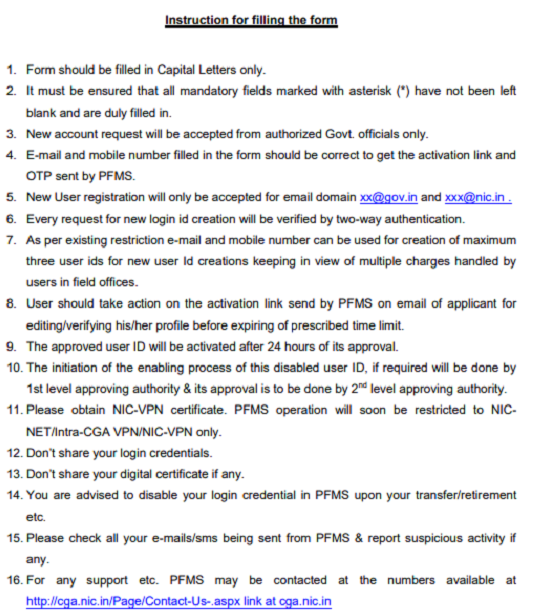 Step 3: While providing the details, make sure to give the correct phone number and email address because you will be getting OTP on the mentioned communication channels.
Keep in mind for new user registration will only be accepted with official email ids like xyz@gov.in or abc@nic.in Follow the instruction to complete the registration process mentioned in the file.
Step 4: Once you submit the form, that will take some time to validate as soon the validation is done, your PFMS Registration will be in progress. If everything is valid and you will be getting login details with the activation key in your mentioned email id.
NOTE: Don't share your login detail to anyone as its highly confidential.
How to Do PFMS Login?
The PFMS Login process is easy. You need to open the official website, as I have mentioned earlier in this article.
Once the site is open, you can fill the provided login details, as shown in the image given below.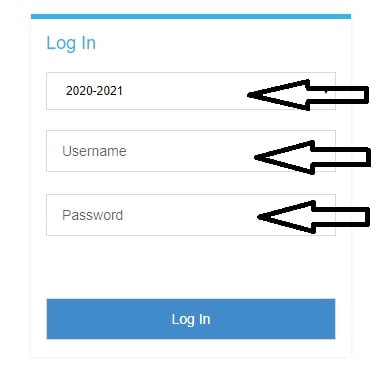 Select the year from the drop-down and enter your user name and password and hit the login button. If the credentials are correct, you will be successfully landed on the home page of the website in your profile. There you can customize your profile and fill the additional details.
Details about PFMS Scholarship
PFMS Scholarship is a kind of scholarship scheme that will be provided by the government or non-government organization for the bright students and staff to motivate.
It is a kind of financial help for the candidate as well to make his/her future.
Before you apply for a scholarship, you can check the eligibility criteria then only apply if you are not eligible you will not be considered for that.
PFMS Scholarship Details can be checked at this website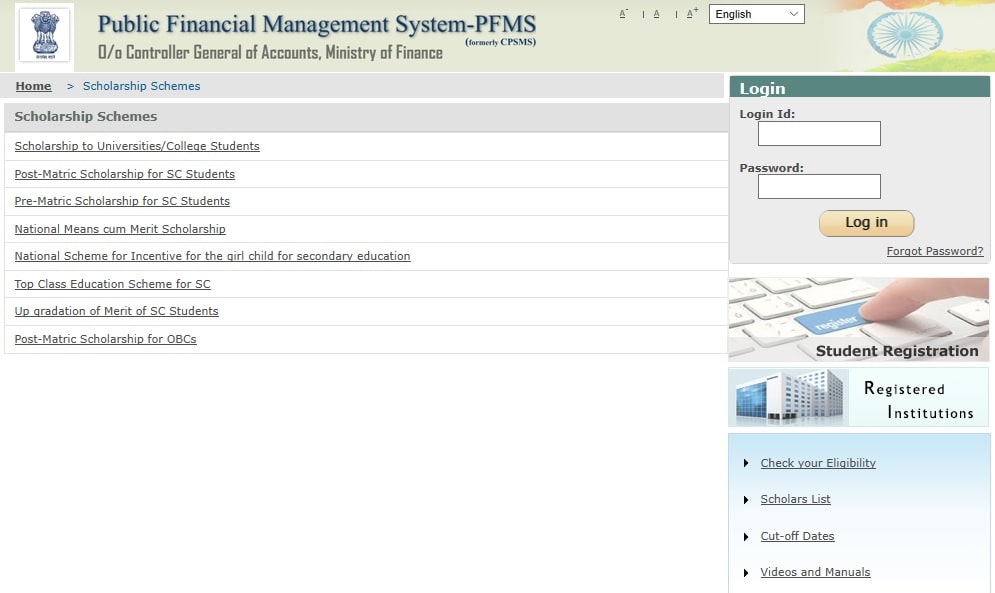 Type of PFMS Scholarship
⦁ Scholarship to Universities/College Students
⦁ Post-Matric Scholarship for SC Students
⦁ Pre-Matric Scholarship for SC Students
⦁ National Means cum Merit Scholarship
⦁ National Scheme for Incentive for the girl child for secondary education
⦁ Top Class Education Scheme for SC
⦁ Up-gradation of Merit of SC Students
⦁ Post-Matric Scholarship for OBCs
These entire schemes have been made for a different purpose and for different categories of people/students.
All the schemes have their one Qualification level and process of selection. Below is the basic information on each scholarship program.
The amount of scholarship is decided by the government as per their candidate eligibility. The amount varies from different scholarship schemes.
Name of Scholarship
Abbreviation
Qualifying Level
Process of selection
Scholarship Period
Scheme Administration Dept
Amount
Frequency of Payment
Processing Authority
Payment Authority
Restriction
Condition for Continuance
Eligible Institutions
Discontinuance
How to check Scholarship claim status?
One you applied for the scholarship in any of the categories. You will be getting one login details to check the claims. To check the scholarship claims status, you can visit the scholar list link on the home page.
Once you apply for a scholarship, you can track your application. You can find the link to track the scholarship on the home page down to the login panel.
You will find all the important links on the website.
You can check your eligibility criteria.
What is your claim status?
What was cut-off-dates?
All the above queries can be answered online by using this portal along with the PFMS Full Form and PFMS Registration process.
You May Also Like – Best SEO Tool