Prepostseo is one of the leading companies providing search engine optimization solutions.
There are hundreds of content optimization and other relevant tools listed on this website, and people from across the globe have queries about the authenticity of these tools.
Today we are going to find details about the most popular tools of this website in this review.
Like every website and tool, Prepostseo has its own pros and cons, so you must know about them.
Prepostseo Pros
There are many advantages of using the tools available on this website, and some of them are listed discussed here:
The first thing you need to know is that it provides unlimited search queries to a user. For instance, you can easily check hundreds of posts for plagiarism without any limitations.
You would get plugins relevant to the tools listed on the website. The most common plugins are for WordPress.
This website works in dozens of different languages, and this is one reason people from across the globe are interested in its use.
Another important feature available in the majority of the tools of this website is URL integration.
Prepostseo Cons
You cannot find anything perfect on the web as every website or tool have advantages over one another. Some limitations posed by this website are listed below:
The database of this tool is not updated regularly. Compared to other online tools like Grammarly and White Smoke, the database of the tools of prepost seo is quite limited.
Sometimes the tool can miss out the checking plagiarism and other screening aspects.
You cannot download PDF results from this website if you are not logged in.
Plagiarism Checker by Prepostseo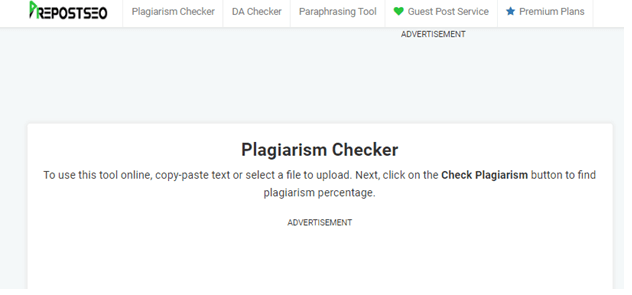 The plagiarism checker tool by prepostseo.com is one of the leading tools in the screening industry.
The plagiarism scanner tool offered by prepost is best for writers, webmasters, bloggers, editors, and all other people relevant to content writing.
This tool can easily scan and compare all sorts of content against its database.
There are different kinds of word limits for different kinds of users, and we have listed below the limits for you guys:
Unregistered visitors can check 1000 words daily.
Unregistered basic users can check up to 1500 words.
Basic premium users can check up to 5000 words.
Standard premium users of the website can check up to 15K words.
Company premium users can scan up to 25000 words in one go.
The paid package for organizations and enterprises can provide an unlimited checking facility.
Some of the salient features of this plagiarism checker are:
Chrome extension
Content security
Report generation
Get results with sources and percentage
Multiple language support
Mobile application for android and iOS
Paraphrasing tool by Prepostseo
The paraphrasing tool by prepostseo is another important utility offered by this website.
After using the website's plagiarism checker tool, if you have found duplication in your work, you can easily utilize the paraphrasing tool to remove plagiarism.
Other than removing plagiarism from content, there are many more uses of prepostseo, and some of them are listed below:
You can rewrite complete essays after copying them from the web.
You can reproduce all sorts of content for getting unique work.
You can use this tool for remixing blogs, websites, and even research papers.
You can also use it to give your content a better meaning.
Paraphrasing a text is not an easy task as it takes a lot of your efforts and time.
To avoid the hard work, you can easily rely on the online paraphrasing tool by prepost seo.
This rewriter service is best for students, writers, freelancers, bloggers, and even researchers.
If you want to know how this paraphrasing tool is better than others, then you should surely read about its features:
You can directly upload content from your pc and the cloud storage spaces.
You can copy & paste content directly from the internet.
The use of this tool is safe and secure. Your input and output content is well-protected.
The results produced by the paraphrasing tool are free of plagiarism and are readable, unlike results produced by other tools.
This paraphrasing tool is 100% free to use. There are no limits or restrictions for any user.
With the paraphrasing tool, you can also try out the word counter, keyword density checker, and readability checker of prepost seo. This would help you enhance the quality of content.
Domain Authority & Page Authority checker by Prepostseo
The domain authority & page authority checker tool by prepost seo is also a famous tool.
You can easily find out the domain authority score of the page with this tool, and you can also find out the spam score, the credibility/relevancy of the backlinks, and of course, the authority of the website in the eyes of the search engine.
This online domain authority checker tool is free to use and is very much reliable in its working.
The tool is better than any other utility in this league, and this is only because of its extravagant results and features. Some of the important features are listed below:
You can add raw data to the tool, and it would extract the URL from it. It would check the domain authority of all URLs.
You can find information about the exact DA and PA score of the website.
The page authority check of the website would predict the site's chances to rank on the SERPs.
The bulk DA checker feature of this tool can help you scan 500 domains in one go.
You can download excel reports from the interface of this tool.
If you are suffering from a bad ranking position and want to get back on your feet, then you must focus on the following tips:
You must write high-quality content.
The site speed should be well-optimized.
You must work on On-page optimization.
It would be best if you always avoid keyword stuffing.
You must add good quality backlinks.
Remove broken links from your website.
Focus on lower bounce rates.
Free online article spinner by Prepostseo
Being a successful content writer is not an easy job. There is a lot of competition in this field, and to be on the top of this league, you must come up with new ideas and phrases.
Rewriting is a solution to this problem, but you must do a lot of practice and skill polishing to rewrite content perfectly.
With the article rewriter tool, you can easily create new content based on old ideas and publications. Some of the highlights of this utility are mentioned below:
It is free to use.
There are no limitations on rewriting.
You can upload complete files and can also add raw text to the tool.
You can get a free chrome extension for free.
You can get plagiarism-free content without any hassle.
This article rewriter tool is best for teachers, students, and bloggers.
Credit card generator by Prepostseo
The fake credit card generator tool by prepostseo is incredibly famous these days. You must know that fake credit card generator tools are not meant for fraudulent activities.
The use of the tool depends on the user and his intentions. This website's most common use of this valid credit card generator tool is to create codes for testing the payment sources on eCommerce websites. You can also use this tool to teach students about credit cards.
LUHN algorithms and other educational content can also be taught with the help of this tool.
A user can easily create a fake billing address, shipping address, credit card number, expiry date, and even the security code mentioned on the card's back.
We want our readers to know that this tool is not illegal; however, your use can surely be illegal! The tool is mostly used in India.
Online text editor by Prepostseo
This website's online text editor tool, as the name tells, is famous for editing and fixing text of all sorts. You must know that the text editor tool of prepost seo is also free and easy to use.
You can edit all sorts of documents and raw text with this tool, and you can improve the quality of your work. There is no limitation in using this tool, which is why people are fond of it.
Editing and proofreading is a very time taking process and is not at all easy. If you have tons of files that you have to proofread and find errors in, then you can easily help yourself by using this tool.
The online text editor tool cannot only edit your work but also help you save content in pdf, docs, and other formats. You can also check the edited text for grammatical mistakes and plagiarism.
If you want to update the content and make it more readable, then you can also use the paraphrasing option to improvise it.
There are many more online tools offered by prepostseo, but for now, we would suggest you try out the ones that are listed in this review.
These tools are not perfect but undoubtedly have a good reputation, so we would suggest you try them out and give us your valuable feedback!