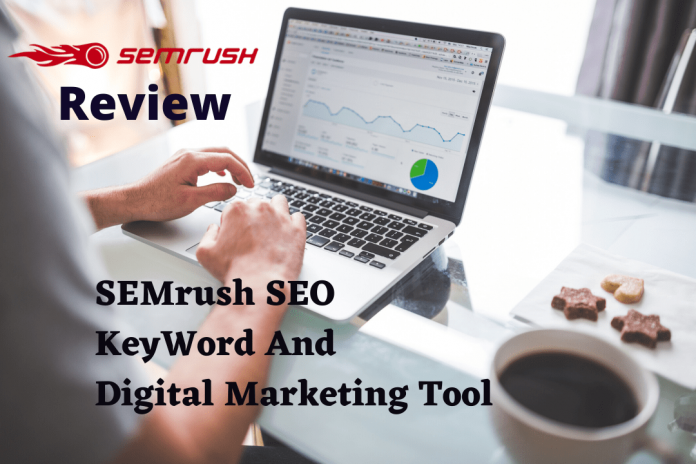 SEMRush Review: For your blog to rank in a higher position, you have to look over the various aspect of SEO. Whether it be improving the SEO of your content or following other ethical strategies to promote your blog, it requires proper research to understand the algorithm of search engines.
Therefore to make your work easier we will have a proper SEMRush review and decide whether this software is actually valuable or not.
Now there are other tools offered for the SEO purpose, but the best part that I personally loved about SEMRush is that you get all the features within a simple tool. In case of other SEO tools, you have one tool for keyword research and another tool for analysis of the website.
What is SEMRush?

Even before moving over the uses of SEMRush, let us understand what SEMRush actually means. SEM stands for Search Engine Marketing and talking about SEMRush, it is one of the most popular and powerful tools which is used to improve the SEO of your website.
The company offering SEORush is based in Boston. This tool was founded by Oleg Shchegolev and Dmitry Melnikov on 3 August 2008. SEORush can provide you the proper statistics of website traffic, keywords, lead generations, and various other SEO related elements.
SEMRush has taken massive popularity due to the quality of the service that it has been offering. In 2016, it had 1 million users from more than 100 countries.
Also, SEORush was awarded as the best SEO software suite by U.K. search awards 2018, along with the best SEO software suite by U.S. search awards 2019.
Forbes has stated SEMRush to boost its user by 45% in 2019. These awards and popularity have added a massively positive impact in the SEMRush review provided by various firms.
10 ways to use SEMRush & SEMRush Review
SEMRush offers a great variety of services. From keyword research to analyzing competitors, SEMRush has a great aspect of works and here we will look over the 10 ways to use SEMRush.
1. Detailed Analysis
How about getting the overall report of a site in a single click? With SEMRush you can easily have a glance through the Overview section which you find within the SEMRush tool.
Once you enter the domain and click on the "Overview" section, you will get the following details.
Traffic: – This region showcases the search volumes and click-through rates based on the estimates of SEMRush. Now if you are wondering that you can go with Google Analytics. Then you must know that SEMRush provides more high-level overview performance compared to that of SEMRush. Also, Google Analytics will only show you whether your traffic is growing or not and it will not help you in improving the traffic of your site.
Position Changes: – The other benefit while analyzing the SEMRush review was that it offers you a proper analysis of the keyword positions. The "Top Position Changes" section allows you the analyze the keywords that are doing really well. Also, you can figure out the flaws for other keywords not doing well.
Branded Search: – Branded Search feature will allow you to analyze how your marketing strategy is going on. When you start promoting your brand, then you will start receiving some organic traffic to your site, these stats are shown through the Branded Search section.
2. Discovering Low Hanging Fruits
Low Hanging Fruits are the keywords which are in between the position of 2 to 15. Basically, such keywords need a bit push to rank properly and get the best result.
Low Hanging Fruits allows you to get a huge amount of traffic just by focusing a bit on it. With SEMRush, you get the feature where you can analyze such keywords and work on it to get the best result. Within the Organic Research section, you will get the "positions" column from where you can look over the low hanging fruits.
3. Analyse your competitor keyword
One of the best features while writing the SEMRush review was the power to analyse your competitor. In every business, you have various competitors who are above and below your rank.
With SEMRush, you get the flexibility to analyse the site of your competitor and figure out at what portion they are doing a better job. Also, analysing your competitor is definitely one of the best features since it allows you to work much harder an achieve a better rank.
4. Qualify Keywords
Finding valuable and trending keywords are easier than to work and analyse. There are keywords that might be just a waste of time and energy for you.
Hence, one of the best features of SEMRush is that it analyses the keyword and showcase some major factors to decide whether you actually need to work on them or not. In the top 10 use of SEMRush, this one is definitely one of the best feature offered by SEMRush.
5. Best CTR Keyword
Keywords are the main element of every digital content. Whether it be the article or the blog, having a proper keyword will allow you to achieve a better rank and traffic.
With SEMRush you can check the keywords with high CTR (click-through rate) and implement them over your content. With SEMRush you will get some valuable keywords that will offer you a better ranking and a great CTR rate.
6. Keyword Difficulty Tool
Another best use of SEMRush is the power to analyze the flexibility of a keyword. After researching the keyword, within the Keyword Analytics, you need to click on the Keyword Difficulty section.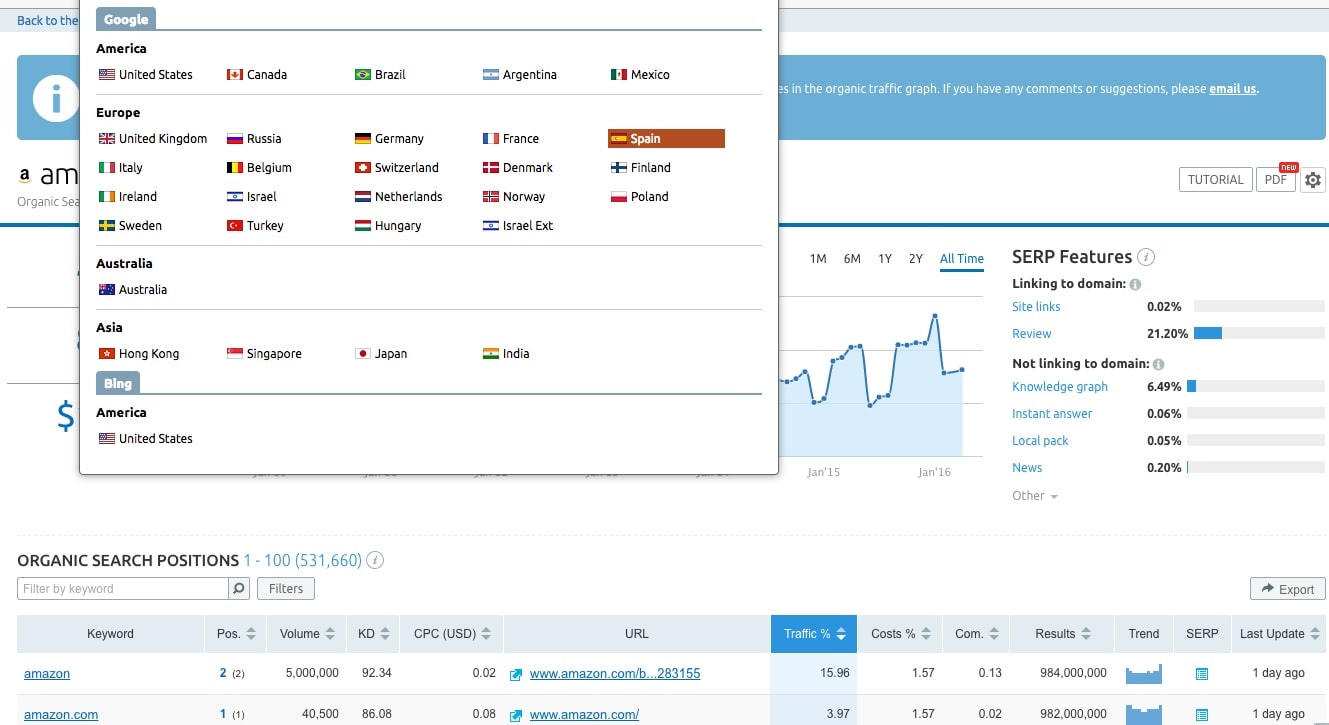 There you can add all your researched keywords after which you will be aware of all the difficulty rate. From search volumes to CTR rates, it will show you all the aspects of whether the keyword is a better choice or not.
7. Backlinks
Backlinks are one of the vital parts to increase your traffic and get a certain boost for your website. A good backlink will definitely bring a great number of visitors to your site.
Where other tools charge extra amount, SEMRush will provide you backlink suggestions within its normal plan. Hence, you do not need to pay extra for backlinks in SEMRush.
Even Ahref has some brilliant features in terms of backlinks, but when we talk about SEMRush then we get a bundle of features at a bearable price.
Also, the previous SEMRush review shows that there are few drawbacks compared to other SEO tools, but in the present scenario I haven't found those drawbacks.
"The best part about SEMRush is that they have been constantly looking over the feedback and reviews and have a dedicated team to fix all those bugs and errors"
Backlinks need a proper analysis since putting backlinks on a low stats site will impact in a negative way for your site. The "Backlink Gap" feature allows you to properly analyze the backlinks.
It also offers you to look over the backlinks of your competitors which you can use to boost your site. The backlink feature allows you to add your backlinks to your related niche with great stats.
8. Traffic Cost
How about putting your backlinks on sites that have an immense amount of organic traffic. You must be wondering that why did not I mentioned this point in the backlinks sections. The reason is that traffic cost plays a vital role in the element of backlinks.
Now when we talk about backlinks, then there are mostly two types of backlinks, do-follow backlink, and no-follow backlink. Do-follow work as a hyperlink, while no-follow is just a normal text. When it comes to adding backlinks then it must be the case that the ratio between do-follow and no-follow must have a similarity.
According to Google, do-follow backlinks are hard to get, and only using do-follow backlinks will make Google assume that you are doing paid promotion. Hence, to make the search engines assume that you have been growing organically, then you must use both types of backlinks in a similar ratio.
This factor is missing in every SEMRush review and hence it can affect your site as a major factor.
With SEMRush, you can analyze the do-follow and no-follow backlinks you have been adding on various sites. Mostly this is one of the best use of SEMRush which is not found on other marketing or SEO tools.
With a perfect ratio of do-follow and no-follow, you will get a boost from search engines. Since backlinks from good websites will make search engines to boost your site to a better rank.
9. Tracking Rank
Analyzing the rank of your site is what makes you achieve a better rank. Without being aware of what rank your website falls, it will be almost impossible to build strategies to grow in the digital world.
The crawling of every single site is what makes SEMRush review really positive. With great insight, you will be able to implement the strategies to boost your business.
Also, you need to understand that the rank of the keyword can change within a fraction of second. Hence, every single month you must be able to analyze the rank of your keywords and how your content is ranking globally.
For those who actually want to build up a brand can use SEMRush since it offers a great variety of features and you will always have a great AI system to guide you with the improvements of your ranking.
10. Client SEO Reports
One of the main reasons for SEMRush being my favourite is that it offers you great assistance with every minute detail of the SEO tactics. Hence, for those who want to work as an SEO manager for an organization then SEMRush can turn out to be your best friend. I have also seen many freelancers making the best use of SEMRush.
Since every brand is building its website hence the demand for SEO managers has been highly increased. Therefore, with proper knowledge of on-page and off-page SEO, you can actually earn a great amount from it.
With SEMRush you can work on the SEO section of various clients and you can also prepare a proper report for every client separately. SEMRush will allow you to look over the different projects and make your work much easier. The reports are really appreciating and provide you a proper insight over all the aspects of SEO of your client.
Try SEMRush free trial
In multiple SEMRush reviews, I found out that those content lack the information about the trial portion. When you are discussing SEMRush review, then one of the major factors that attract the customers to have a look over the product is the trial version.
No matter how good or bad a product is, until and unless you personally use the product you cannot be sure that what the reviews have written are absolutely true. Now since SEMRush is a paid product, hence it must not be the case that after purchasing you found out that it is not up to your expectations.
Hence, even before you purchase the product, I would highly recommend you to properly look over every single aspect of SEMRush with the trial period.
SEMRush offers you a trial period of 14 days with all the accessibility that you get after purchasing SEMRush. The trial period is the time where you can actually decide which tool or not. Hence, I would highly insist you use every single feature in order to decide whether you want to stick with SEMRush or not.
SEMRush pricing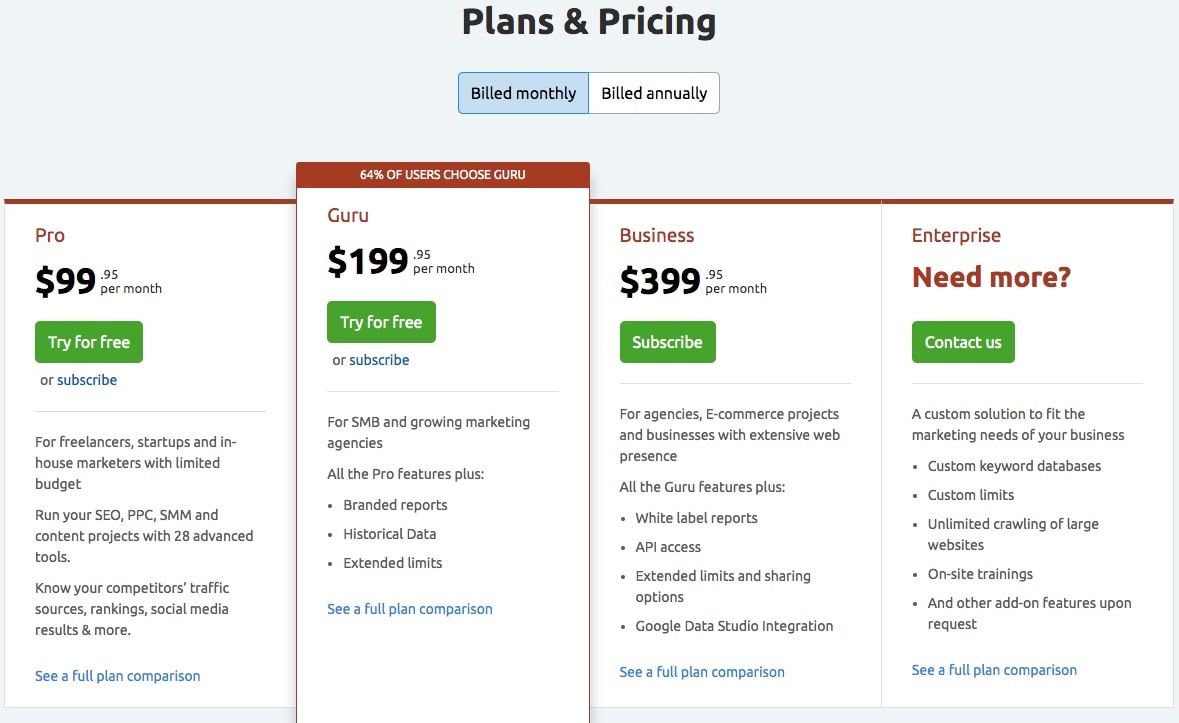 While talking about the price of SEMRush, then you basically get 3 different plans. The "Pro" plan that cost you around $100 per month is mostly used by freelancers or start-ups.
In the "Pro" plan you get 10,000 results per report along with 3,000 reports per day. The reports segments can be easily segregated when you are working for multiple firms. You also get a great variety of features such as SEO ideas unit, pages to crawl, mobile ranking, keyword tracking, and a lot more.
The "Guru" plan will cost you around $200 per month with 30,000 results per report and 5,000 reports per day. You also get the option for historical data which was missing in the "Pro" plan. You can also handle up to 15 projects with some great SEO boost features.
The "Business" plan is mostly purchased by big companies and organizations. It has a price of $400 per month with external features like 'product listing ads', 'sharing with read-only access', and a lot more. Generally, the different sets of plans have made SEMRush suitable for every individual and organization.
Now some might complain about the extreme prices offered by SEMRush. Looking over the market, the rates are pretty decent compared to other SEO tools. Also, the quality of the service that SEMRush has been providing is actually worth every single dollar.
Conclusion:
SEMRush has been a massive hit from the time it has come into the market. From achieving a great reputation and offering some great, the customers of SEMRush has been increasing with every passing second. Also, the trial period of 14 days allows you to have a perfect over of SEMRush and check out all the points that I have mentioned in the SEMRush review.
Whether it be the keyword research or the competitor analysis, the tool has worked as the best fit for me. By looking over the overall feature along with the quality of the services, I feel that every penny will turn out to be a great investment for a huge success.
Thank you for reading my SEMRush Review article, please comments your suggestion and feedback.