Web hosting is crucial service that is used to host the website. With the help of web hosting service, one can keep website live 24*7*365 days. But, what if you were asked which web hosting provider is best for your website?
Then, you might get stuck while answering as there are many web hosting providers available in the market. However, selecting a good web hosting provider to host your website might be hectic and time consuming.
To get solution on this, you can consider review sites, customer reviews and review articles.
Likewise, you can refer this article to know tips for selecting the web hosting provider to host your website.
What is Web hosting?
It is a service that helps businesses and individuals to bring their website on the web with the help of web hosting service. Those websites are hosted or stored on special computers called as servers. When users type your website address or domain name in the browser then they will be redirected to your website. This will happen when your web hosting providers system connects with their server, and your web pages will be accessible to them via browser.
Ahead, most of the web hosting companies asks to host your domain name with them. However, if you do not have a domain then you can buy from your web hosting provider. Looking for USA Web Hosting Company then switch to Hostripples.
Types of Web Hosting Services
Shared Hosting
In this type of web hosting, all website files are store on single physical server.  However, this server is shared by multiple website owners. If any of that website uses maximum resources then it will affect the performance of other website. Apart from this, Linux Shared Hosting USA is the best solution for newbie who have small websites, or with limited budget.
VPS (Virtual Private Server)
In VPS hosting, all website files are kept on a virtual server which is divided between limited ranges of the website owners. Here, case is different, if one user usages the maximum resources then it will not affect the performance of other user who has account on the VPS server. Hence, this type of web hosting service is best solution for eCommerce websites or sites that are expecting growth in future.
Dedicated Hosting
Here, you rent a complete physical server to store your entire website's data on it without worrying about anyone else like on shared or VPS hosting. You get a complete control on your server's hardware and you're solely responsible for fixing the error or can contact your web hosting provider. In terms of pricing, this web hosting service is expensive and it's perfect solution for large firm and well established firm.
Review
As I have already stated that considering a reviews for selecting the web hosting provider is the best option. It gives clear picture to buyers about company and helps them to understand that web hosting provider. You can check reviews from Trustpilot, Hostadvice, Hostsearch.com, etc.
Reliability
It is always suggested to check reliability of the web hosting provider. If you're getting maximum reliability then you can opt for that web hosting provider with no time. For example; you can opt for Hostripples.com, where you'll get uptime of 99.9% which will keep your website live on web 24*7*365 days.
Fast Connection
A good web hosting provider offers quality web hosting service that increases the website loading speed. If your website is loading faster then it will impress the Google and searchers. On the other hand, it will also increase the rankings.
Moreover, you can also check the fast connective of web hosting provider via downloading the Url from working server of web hosting provider with certain size limit of 1GB.
For example, if you are downloading the file of 1GB from VPS server of USA location to India server location of VPS then the downloading time of the file should be faster from USA server to India server.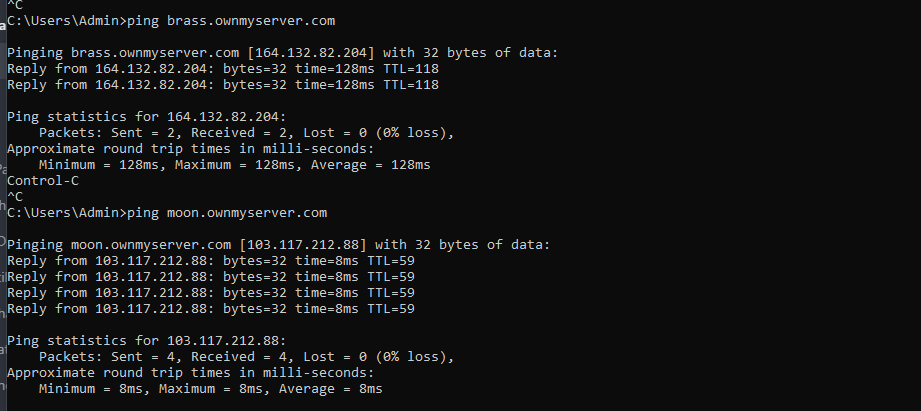 From the above mentioned example: you can see that a 32 bytes of data/file was download from USA server within 128ms to Indian server within 8ms from this you can assume the downloading speed of web hosting provider.
Control Panel
If your web hosting provider is offering user – friendly control panel then it will allow you to manage all aspects of your website from any location. If you're newbie then you can ask for login url of cPanel, updated version of cPanel, it should be smooth in working, etc.
Payment
Cost effective is another important factor and it's worth to find out web hosting provider that provides maximum cost including quality web hosting service and essential features.
At hostripples, you will get web hosting service starting from $1.96/mo including coupon of 50% discount and it has many features that make your website worth. You can compare the prices and select the best web hosting provider as per your need.
Server Features
You can list down web hosting providers which you want to select for your website. I will suggest you to figure out features of web hosting providers and select the best one for your website. You can check features like storage and bandwidth, uptime, security features like SSL Certificate and support service.
Support
Support service is essential if you're entering into long term business tenure with web hosting provider. We all know that an issue doesn't nock your door before attacking on your website; your website directly gets attacked.
Therefore, it's better to take precaution before cure. If your hosting company is running a support service then ensure the availability your web hosting provider.  If they are available 24*7*365 days then you can ensure that you're in right hand and can sign in with them.
Server Location
Yet another important feature that you should consider before buying a service is to check the server locations. If you're getting your preferred server location then you can check other technical terms related to server location.
Bandwidth and Traffic
It is also called as data transfer that means the amount of bytes downloaded from your website by your visitors. Many web hosting companies' claims that they will offer unlimited bandwidth, in actual, there is a limit and that can be exceeded and you've to pay extra charges to your provider. You can consider it if you think our website will bring in a higher level of traffic.
Flexibility
A reputed web hosting company gives you the options to upgrade or downsize your web hosting plans as per your demand. It's always best to start off with a shared hosting account and then you can switch to dedicated server as and when required. However, you'll get best price on shared hosting that you can think on starting with.
Data Backup
Data backup is yet another crucial parameter of web hosting field that both buyer and seller should understand to its core end. If your data is safe with your web hosting provider then you can assumed that your data is 100% safe. Some web hosting providers take back up of data on daily basis, rest follow their working pattern; every web hosting provider is different in their own way.
Summary
Web hosting concept is easy to understand and helpful for every businesses. You can also bring your website on web. You need to sign in with Hostripples and your website is live on the web. For more details visit Hostripples official website.
We hope you have found the answers to your questions about "Tips for Selecting the Good Web Hosting Provider" You may also want to check out Why Hostripples is the best web hosting solution for hosting your website?